Arch broke and it was awesome!
I use Arch Linux running on an encrypted root filesystem (btrfs) The other day I rebooted and it could not decrypt my file system .. I was faced with this: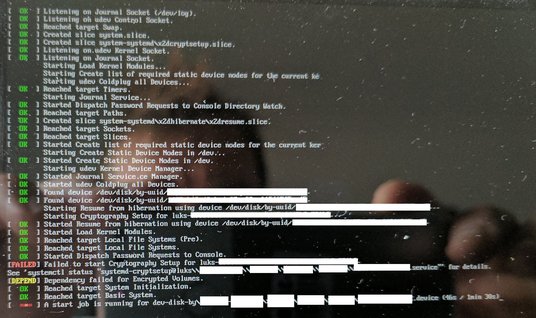 I thought "no problems", I'll just reboot into last good boot snapshot.
I booted into my fail safe snapshot.. the problem remained!, I thought "oh poo!"
Next I booted of an arch usb, decryped my drive using cryptsetup, that worked, "phew!" at least I can see my data.
I then mount / and /boot, chrooted and ran pacman -U /var/cache/pacman/pkg/systemd-233-7-x86_64.pkg.tar.xz to go back to the previous version of systemd. After a reboot I could enter my password and dcrypted my drive again. "YAY!"
I reported this problem on the arch forum to see if other had same issue, turns out they do and there is a fix on the way
I am now waiting for a newer version of systemd to turn up.. so for now run this to update:
$ pacman -Syyuu –ignore systemd
Althou it was bad to break and scary, it was awesome as I was able to fix it and I got to talk on people on Arch forum.